Hello, this is Takuya from TESEN share house. In our last blog, We announced the concept of ENN HYOGO, "Drawing a connection".
In order to create such a space, we have had countless meetings. We have all come up with various ideas together, and this time we would like to finally unveil the completed drawings to the public! Let's take a quick look!
ENN HYOGO Drawing
|1st Floor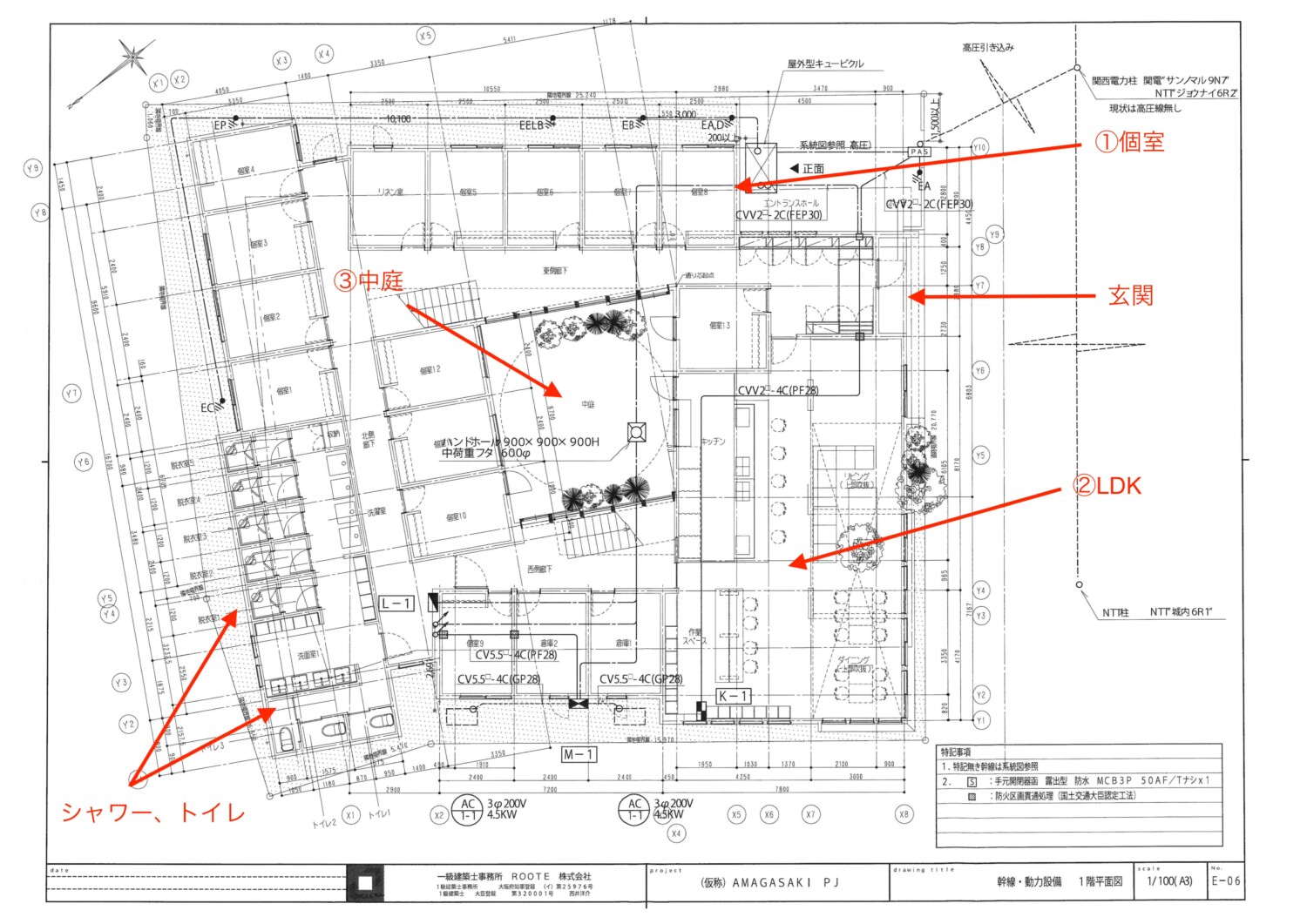 ①Room
There are a total of 40 rooms on the first and second floors, making it a large share house with room for 40 residents from all over the world. With 40 rooms, it may be hard to choose the right room, but don't worry! The first floor has a LDK and showers close by, while the second floor has a slightly more relaxed atmosphere with a view of Amagasaki Castle. The first floor is close to the LDK and showers, while the second floor has a slightly more relaxed atmosphere with a view of the Amagasaki Castle. You are sure to find a room to your liking!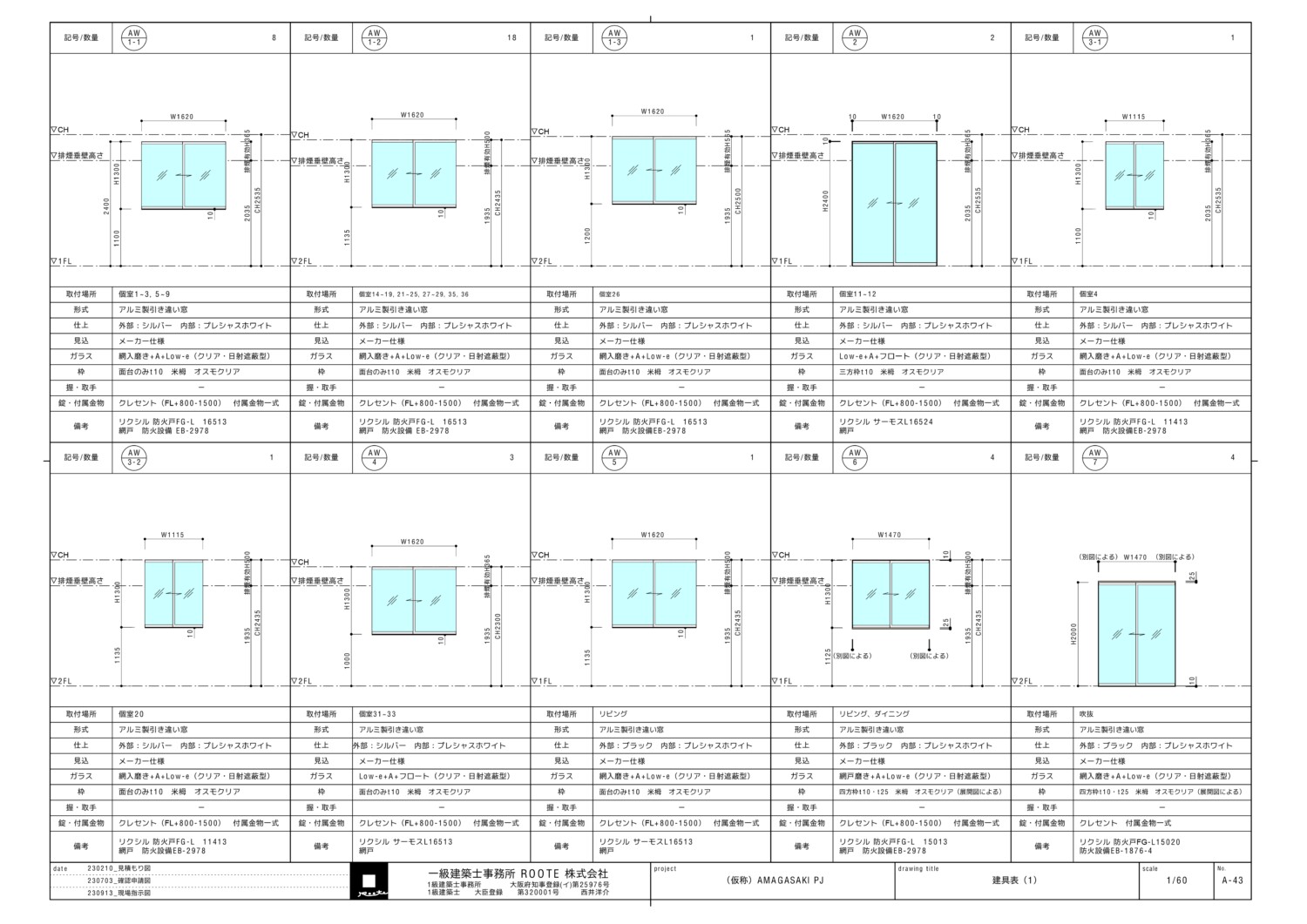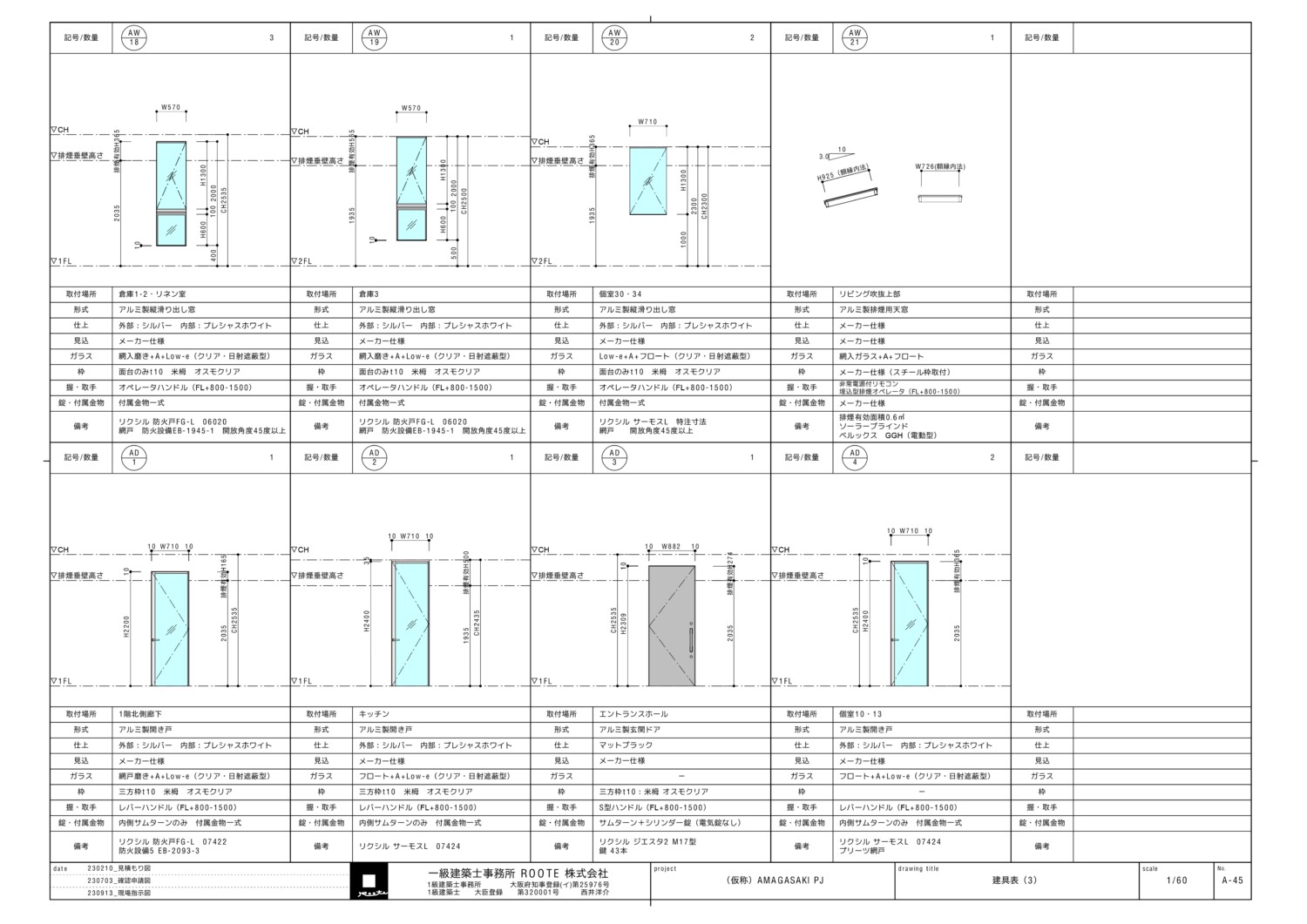 ②LDK
From the entrance on the first floor, a single door opens into a living room with a great sense of openness and a stairwell. The 5-meter-long counter kitchen will allow you to cook while conversing with others, and is sure to be a great opportunity for socializing! A symbolic tree will be planted in the living room.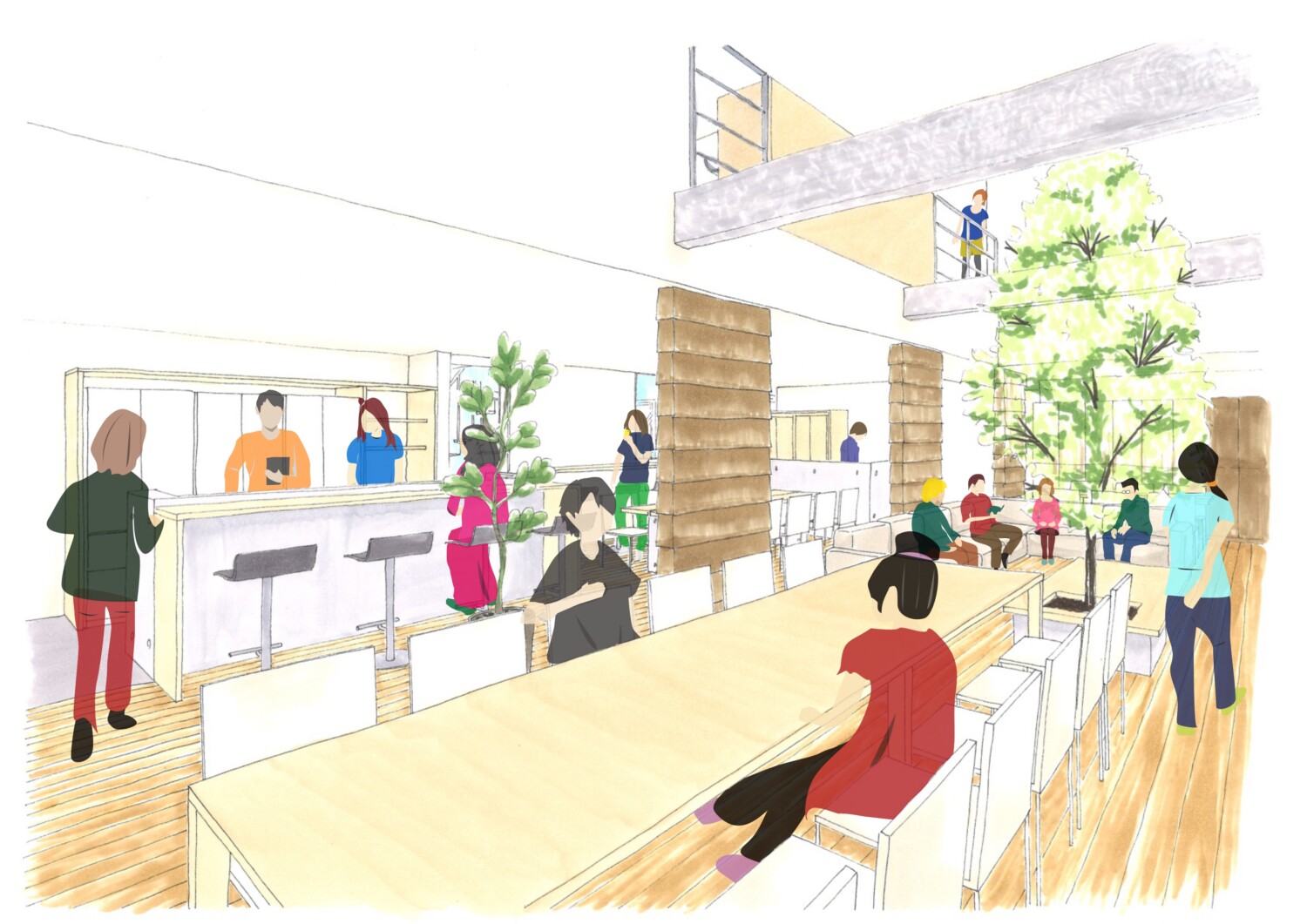 ③Courtyard
The most distinctive feature of this ENN HYOGO is the courtyard. From the courtyard located in the center of the share house, we hope that "En," which is the origin of the name, will spread out. This is also the reason for the name of the share house. You can relax in the sun on a sunny day. Or, you can enjoy a meal together or hold a party. A house with a courtyard is something to aspire to, isn't it? Please look forward to the details!
|2nd floor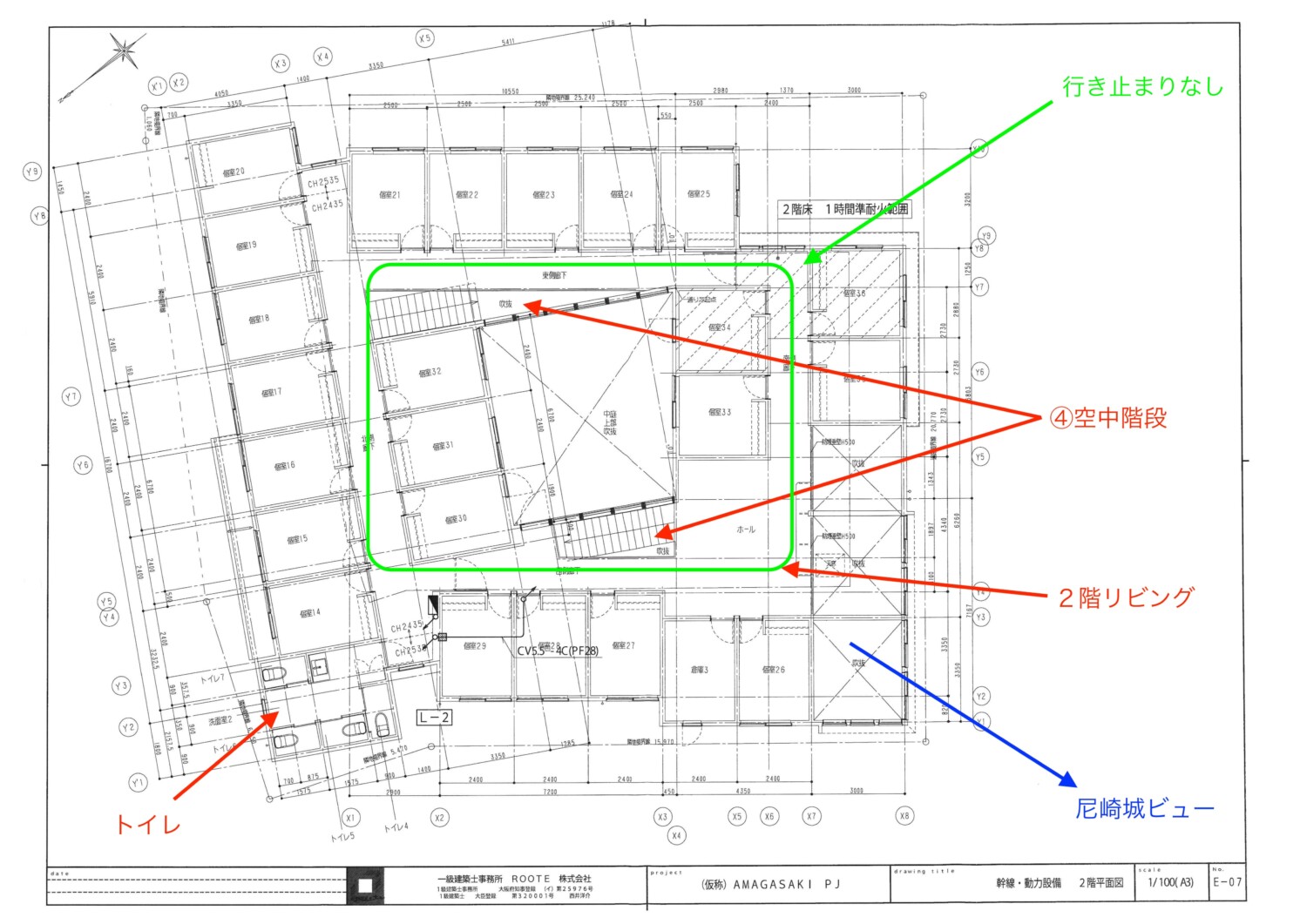 ④Aerial stairs
As you may have noticed, there are no "dead ends" at Share House ENN HYOGO this time. Huh? Huh? You may be thinking, "What? Don't worry. I didn't know what it meant at first. The rectangle shaped share house is centered around a courtyard, and everything is connected by a hallway. The staircase also has a stairwell, and light pours in from the windows in the courtyard, illuminating the inside of the share house! Also, from the large windows in the atrium you can see Amagasaki Castle across the street, so we call it the castle view. LOL!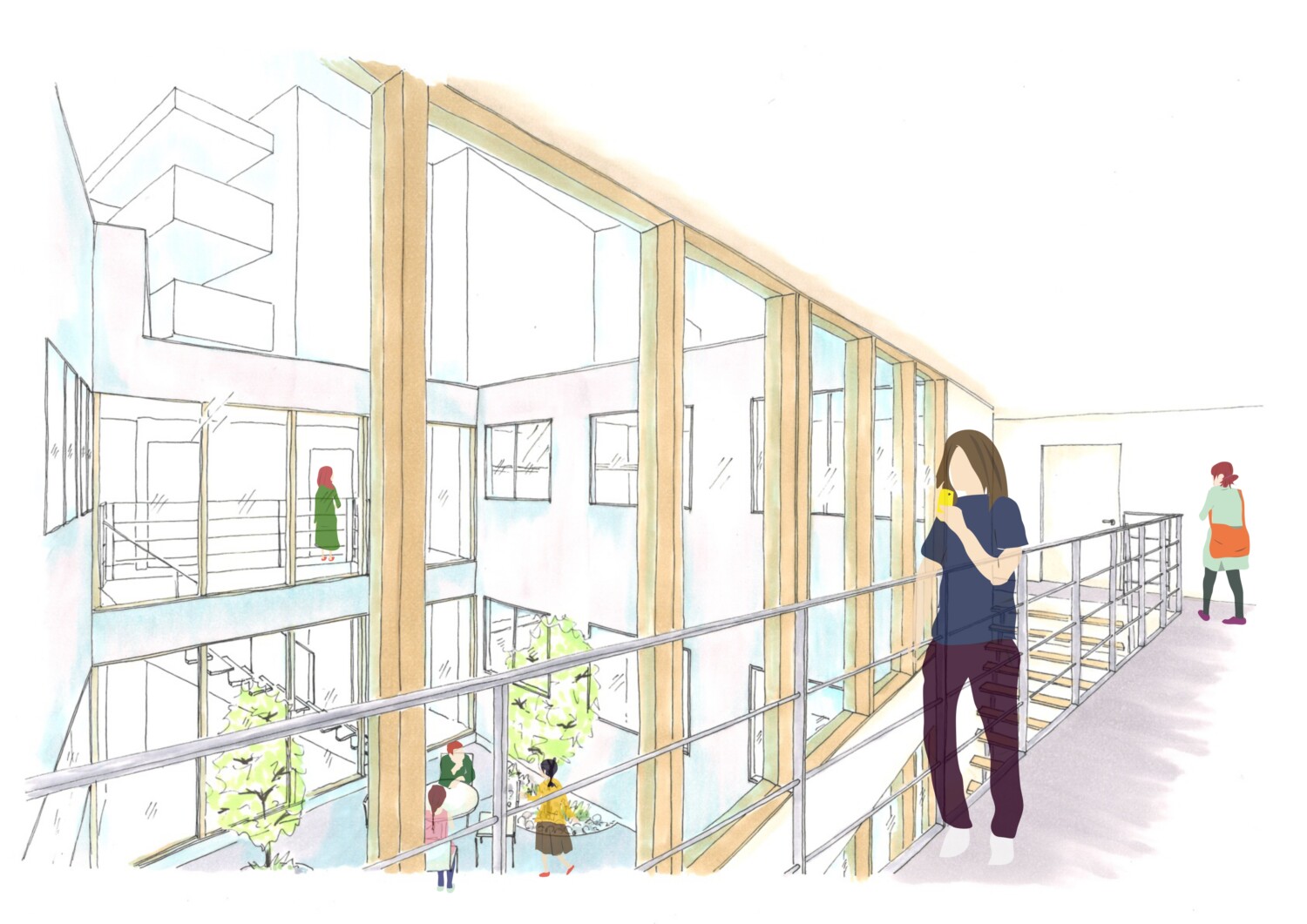 How was it? Aren't building plans exciting just by looking at them? When you think about what it will be like when you live there, it makes your imagination soar, doesn't it? Am I the only one who can look at them all the time because I can imagine what it will be like to live there? LOL!
I'm so excited to see it completed!