---
1. I would like to recommend share housing in an age when you can be happy without living in a share house.
---
The form of happiness is different for each person. Put your favorite furniture in a one-room apartment, play your favorite music, and eat what you like. While the city is full of one-room apartments, it is easy to get one if you pay for it.
You never know who lives next door. Even if I see them on the elevator, I naturally look away. Sometimes I hear a faint greeting that I think is my imagination. I guess from the movement of his mouth, but I can't tell because I have my earphones on.
A day or a week passes between work and home. I don't want stimulation, but I would like to broaden my horizons a little, but I don't want to force myself to do so.
It's a bit of a waste. The world is much bigger than you imagine.
---
2. What is a common area?
---
Living room for socializing.
Washroom, shower and toilet.
Kitchen.
---
3. What kind of people live there?
---
People from 20 to 39 years old live here.
From students, office workers, nurses, kindergarten teachers, high school teachers, travelers on a working holiday, remote workers, restaurant staff, film directors, designers. There is no commonality in which professions are more or less common. That is a good thing.
People who live in Osaka for the first time, people who come to Japan for the first time, and people who have always lived in Osaka. That is what is good.
It's okay for everyone to be different. The only thing I would like to mention is that a share house is a space where your individuality is respected.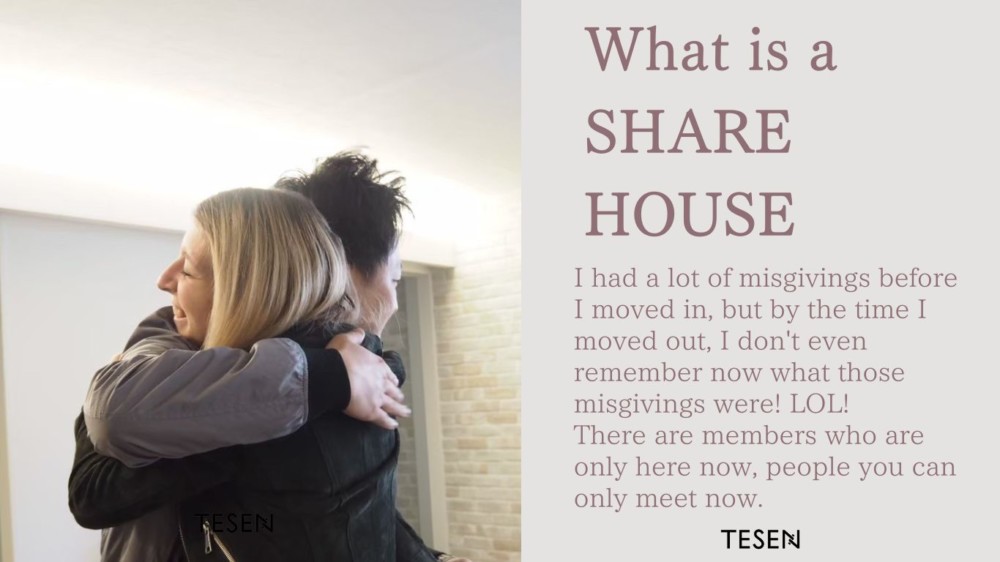 ---
4. Room looks like this
---
Your own space.
Breeze through the room and bring in some green plants, lay out a rug, or
Add just the right number of cushions to make it a wonderful day in bed.
Add a personalized sticker or photo to the nameplate next to the door.
---
5. Small steps at the beginning.
---
Let's take a tour for now.
Please come with a light heart, wondering what kind of people live in a share house, and what it's like to live in a share house.
Come as if you were visiting a large family. It's not what I expected. Maybe it's not for me. That's okay! You'll find out that a share house is not for you! You can move on to other options! We offer tours every day, weekdays and weekends.
We hope to spread the share house lifestyle to as many people as possible.

---
6. Various things about share houses.
---