Four share houses in Osaka.
I'm going to Osaka. I want to make friends and have fun!
Each share house has a different atmosphere! Which type are you?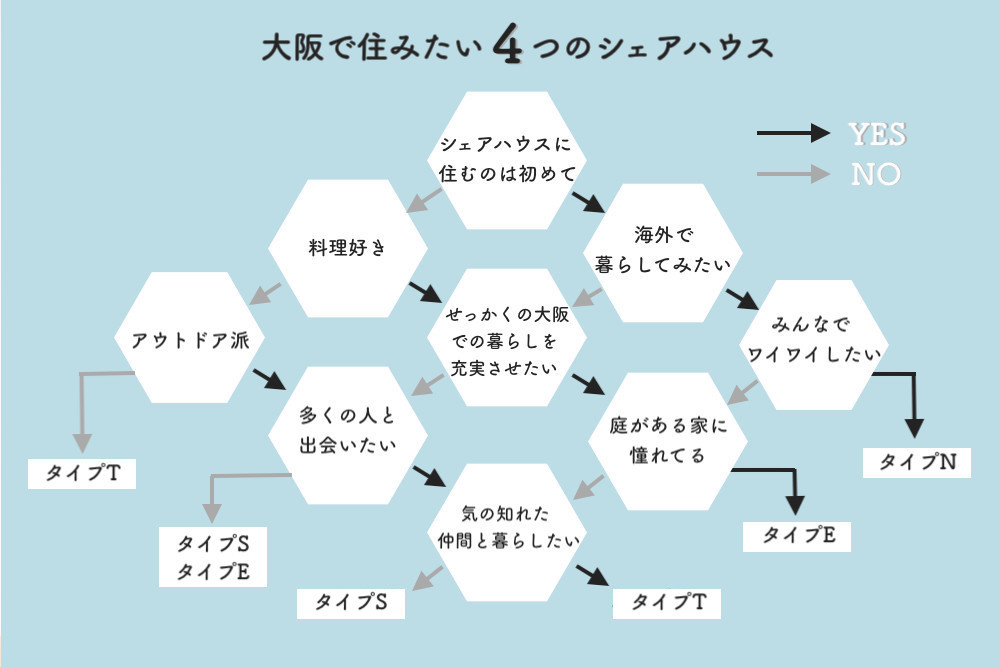 Type T  
---
You want to get out and about on your days off! You are such an active person.
You want to separate your work from your private life and enjoy it when you can.
You want to be fulfilled! You want to meet a lot of people and be stimulated! KAE OSAKA is the perfect share house for you!
Type E
---
You are teleworking more and more and spending more and more time at home.
But you want to be fulfilled at home too! You want to feel like you're in a cafe at home with a big terrace!
HAYA OSAKA is the perfect place for you.
Type S
---
I want to have a good time for myself. I'm currently living in a studio, but I'm not satisfied with the design that can be found anywhere.
I don't want to do the same thing as everyone else. Living is an important way to express yourself! If that's you, come to ZEZE OSAKA.
Type N
---
It's been a year since I was able to go on a trip abroad, which I used to do once every six months in the Corona vortex.
You are a dynamic person who wants to go somewhere where no one knows about me right now.
You feel at home in a foreign language. You can't imagine a life without challenges!
SEN OSAKA is the perfect share house for you.